During the last few years, there has been a significant shift towards content marketing and lead generation through social media marketing.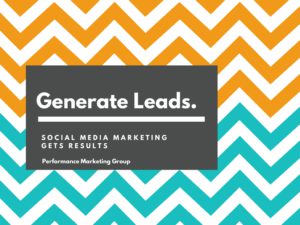 For small businesses, generating leads through traditional social channels makes sense. Organizations are devoting larger percentages of their budgets to social media each year, and lead generation is the fastest way to earn a positive return on the investment.
The vast majority of prospects for any product or service spend an enormous amount of time connected to their friends and family on sites like Twitter, Instagram, Facebook, and LinkedIn. It makes sense to target them in this habitat while respecting the unique culture and expectations they have. The task is challenging, but the rewards are consistent and measurable.
The key to harnessing your fair share of leads requires attention to detail and attentiveness to the unique needs of online users. Understanding their basic requirements is a strong first step towards successfully using content to attract them into your sales funnel. The average consumer is savvier than ever, leading to a genuine need to connect with them rather than sell them, especially on initial encounters. Social media marketing is an awesome way to begin a relationship and open meaningful dialogues.
Boost Your Lead Generation Efforts Through Social Media Marketing
In fact, lead generation is directly increased by your social channels. There is no conflict at all with your alternative marketing methods. Whatever you're currently doing can be easily extended through Twitter, LinkedIn, and Facebook. Your prospects and customers already use those networks to stay in touch with companies they admire. Give them an option to connect with you and then make their efforts worthwhile. Enterprises that have shown the ability to engage and connect are doing extremely well, regardless of their size and products. What matters most is crafting a message and a strategy that creates favorable interaction.
Engagement is a relatively big word that has a simple meaning on social networks. You engage with people when you follow, comment, like, or even send Private Messages to them. Over the years many small businesses have attempted to connect and sell, but that way of doing things is now giving way to opening a two-way conversation so that you understand what they want better.
Resist the urge to march your way through social media networks like an invading army. An overly aggressive approach is particularly dangerous if you are using brand new accounts to establish your presence. When you first start out, you have no credibility. It doesn't make one bit of difference if you've been around for years or not if your profiles are new. During this startup phase, you need to establish connections, and you can be sure it's no big thrill for those you're seeking. Many of them will have a "wait and see" attitude until you maintain a clear sharing strategy for several months.
After you begin to cultivate a following, momentum shifts in your direction. When your follower count finally reaches the thousands, every single thing you do gets much easier. The reality is that most small business social networks will never get to this point before someone gives up on the dream. Take a look at the social profiles of small businesses (something I do every day!) and you'll see a vast majority of them are tumbleweed-overgrown ghost towns! The ones that don't have some presence of life but are malnourished from a content sharing and engagement standpoint.
Perhaps even worse, some organizations have decent social media presences but forget to complete the "last mile" of lead generation. They don't have working phone numbers, contact forms, or lead generation mechanisms in place when traffic lands on their website! Since they don't provide the prospect with a way to move forward, their sales funnel dead-ends at their website. It's crucial that you avoid having a catastrophe like this at all costs! Details matter every step of the way for digital marketing and organizations have to monitor and adjust campaigns at all times. If something isn't working, they have to fix it instantly!
Live Chat and Fast Answers Matter
Companies selling high-ticket items need to staff their Live Chat stations and social media profiles to provide people with fast feedback. Failure to do that results in leakage from the sales funnels that ends up directly in the hands of competitors who are actively closing sales. There's little question that today's consumer has a short attention span and expects to find answers and support quickly. If they can't, they move right on and never look back. Even if you get every other aspect of your marketing right, falling apart on the "last mile" is enough to turn profitable campaigns into losing ones.
Neglecting people's real desire for "live time" engagement should never happen. The trends are firmly set, and there's no chance they will reverse anytime soon. The consumer rules social networks in a way that would scare the pants of last century's mega-marketers. No longer will broadcasting be enough when everyone demands a two-way conversation.
Conversing with a purpose is what social media marketing is all about. Define your campaigns and objectives and deal with the results by refining details. It's the act of adjusting and tweaking your message and campaign strategies that ultimately results in a smoothly-functioning lead generation funnel that encompasses all social networks and online channels.
This brave new frontier must be part of your marketing efforts. Companies that are burying their heads in the sand hoping that social media is a fad are already missing out on a perfect source of new clients and revenues. It's never too late to get started. If you don't, you lose more business every single day you hesitate. Remember, nobody expects you to do it all yourself. Third party digital marketing agencies like ours exist to help small business clients get found on social networks. Give us a call at 1-877-830-3318 for more information on how we support companies. You'll be glad you did!